Menu

News


Description
The objective of the
International Journal of Pavement Research and Technology
is to provide a platform to promote and share exchange of ideas among pavement engineering communities around the world. The journal attempts to disseminate information on all aspects of pavement engineering and technology developed through innovative research, implementation, and practical experiences.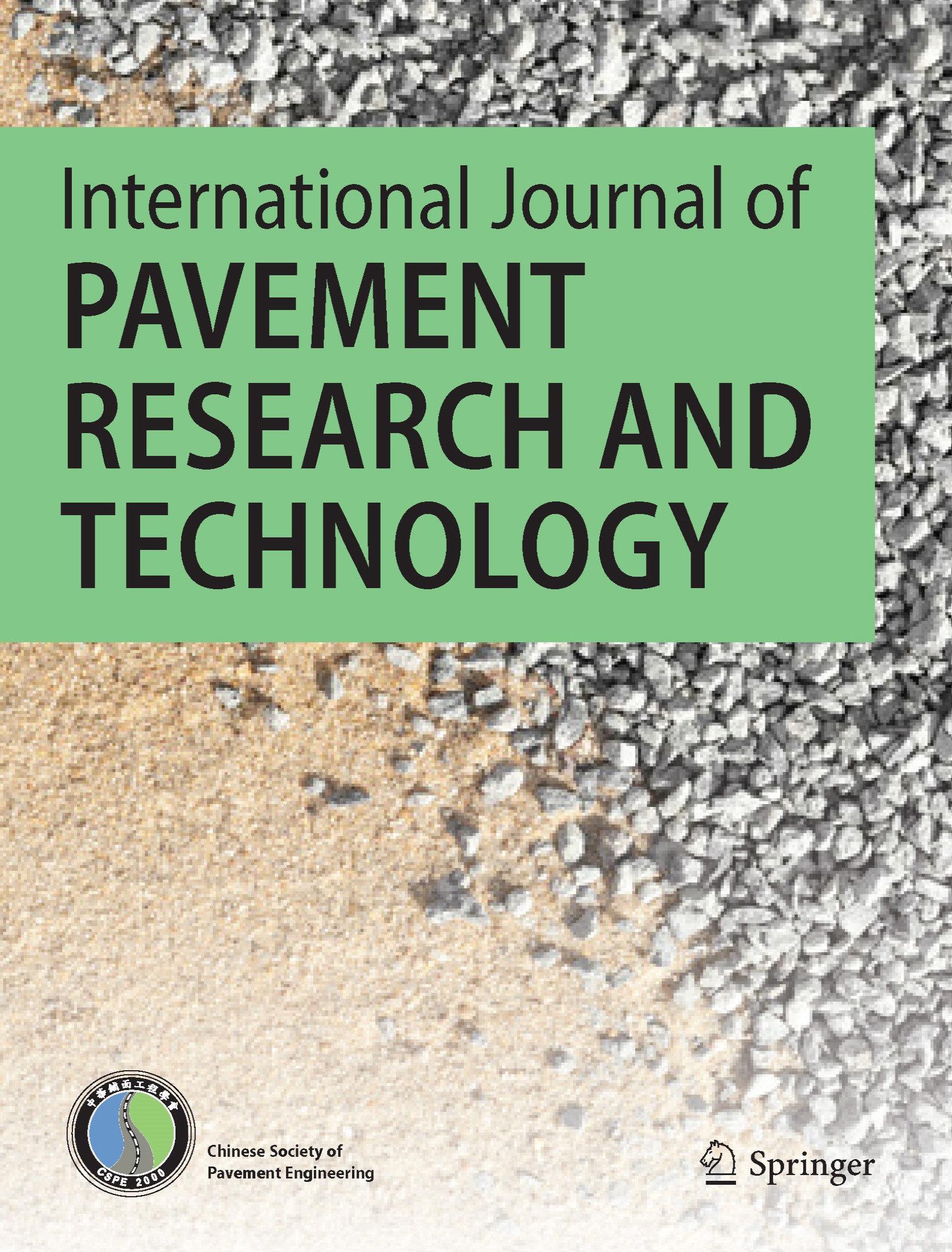 ` Enlarge the picture
Journal Metrics
CiteScore 2021: 4.5
CiteScore March 2023: 4.1
h-index: 31
SJR Impact Score: 2.67
Bibliographic & Ordering Information
ISSN 1997-1400 (on-line) 1996-6814 (print)
Publisher
Chinese Society of Pavement Engineering
No.300, Jhongda Rd., Jhongli City, Taoyuan County 32001, Taiwan.
Co-Sponsor
International Association of Chinese Infrastructure Professionals (IACIP)
Editors-in-Chief
Prof. Jia-Ruey Chang, National Ilan University, Taiwan
Prof. Musharraf Zaman, University of Oklahoma, USA

See editorial board for all editors information
NEWS
.
-- Announcing New Editor-in-Chief -- Prof. Musharraf Zaman

---

The IJPRT is proud to announce the new Editor-in-Chief MUSHARRAF ZAMAN, Ph.D., P.E., F. ASCE. He is a prolific teacher and a highly accomplished researcher. During his tenure at OU, he has received a number of prestigious national-level teaching awards from the American Society of Engineering Education (ASEE). He also received the lifelong title of David Ross Boyd Professorship, the highest teaching award given by the University of Oklahoma. During his tenure at OU, he has received over $22.5 Million in external research funding from various state and federal agencies and industry. He has published over 390 archival papers. Several of his papers have won prestigious awards from national level societies and organizations. He is a fellow of American Society of Civil Engineers (ASCE) and serves as the Editor-in-Chief of the International Journal of Geomechanics (IJOG), ASCE. Since October 2013, he has been serving as the director of the Southern Plains Transportation Center . Welcome aboard, Prof. Zaman.

.
-- As of 1 January 2019 the journal has been transferred to the new Publisher, Springer Nature.

---

The dedicated homepage for IJPRT has officially launched at Springer with the link below:
https://www.editorialmanager.com/jprt/default.aspx
Starting from the 1st issue of Volume 12, January 2019, IJPRT hosted by Springer Nature and all papers will be produced by Springer Nature Singapore. The Editorial Manager system will be handling the online submission and peer-review management. We welcome your submissions.

.
-- Production and Hosting by Elsevier

---

After several months of communication with Publisher Elsevier, the dedicated homepage for IJPRT has officially launched at Elsevier with the link below:
http://www.journals.elsevier.com/international-journal-of-pavement-research-and-technology/
Starting from the 1st issue of Volume 9, January 2016, IJPRT will be hosted by Elsevier and all papers will be produced by Elsevier. The new EVISE system will be handling the online submission and peer-review management. Most importantly, IJPRT will remain open access online!

.
-- Production and Hosting by Elsevier

---

Aimed at increasing the content distribution and research impact of published papers, IJPRT has launched a collaboration with the largest academic publisher in the world for Production and Hosting, Elsevier. Starting from the 1st issue of Vol. 9, 2016, IJPRT will be hosted by Elsevier. The rollout of the dedicated journal homepage for IJPRT on Elsevier.com and Evise (online submission and peer-review management system) is scheduled for late October to early November 2015.

.
-- Announcing New Editor-in-Chief -- Dr. Shin-Che Huang

---

The IJPRT is proud to announce the new Editor-in-Chief in North America --Dr. Shin-Che Huang of Western Research Institute, USA. Dr. Huang has been a member of the Journal editorial board since the inception of the journal. He is a well-respected researcher and has been very active in the international research arena in the pavement engineering for many years such as TRB, ASCE, ASTM, ISAP, etc. Welcome aboard, Dr. Huang.

.
-- The Editor's Corner of Vol.6 (6) concludes a summary report of IJPRT in 2012.

---

News context : The International Journal of Pavement Research and Technology (IJPRT) in 2012 comprised of 48 technical papers and 5 technical notes from 108 submitted manuscripts from 24 different countries, reported in the Editor's Corner of Vol. 6 (6). The percentage of acceptance was about 48% with efficient processes of reviewing in less than 5 months. Additionally, the SCImago Journal & Country Rank (SJR) indicates the increasing trend pertaining to the citations, self-citations, and citations per document (2y) of the Journal. More information can be found online as follows (SJR link).

.
-- The 8th International RILEM Symposium SIB2015 "Testing and Characterization of Sustainable & Innovative Bituminous Materials" will be held in Ancona, Italy, on October 7-9, 2015.

---

The SIB2015 Symposium will also be an invaluable opportunity to outline and clarify the main directions of present and future research and standardization for bituminous materials and pavements.The Proceedings, fully indexed in Web of Science, will be distributed as a book at the conference venue and will enter the RILEM publication series (Springer – RILEM Bookseries).Further information and updates are available on the symposium website www.rilem-sib2015.it

.
-- Two Special Issues—Vol. 6 (4)&(5) are in press online for 8th ICPT.

---

The 8th International Conference on Road and Airfield Pavement Technology (8th ICPT) was held from July 14-18, 2013 at the Taipei International Convention Center, Taipei, Taiwan. More than 800 participants from 33 different countries participated and a total of 214 papers were presented. Among them, 57 papers were peer-reviewed and published as the Special Issues Vol.6(4), Vol.6(5) of IJPRT... updated by September 4, 2013 .

.
- The first Editorial Board Members meeting was held on July 15,2013 in Taipei
The first IJPRT Editorial Board Members (EBM) meeting was held during the 8th ICPT in the afternoon of July 15, 2013. Twenty (20) members attended the meeting. A presentation was made to show the chronicle development of the journal. During the meeting, excellent comments and ideas were suggested and discussed to promote and improve the journal as we move to the next stage. A group photo was taken after the meeting … updated by September 2, 2013.

---

Group Photo Enlarge the picture 1st EBM meeting_071513_Taipei
.
-- The second biennial Best Paper Awards have been selected from a shortlist of 11 papers by the 5-member Paper Awards Committee led by Dr. Shin-Che Huang of Western Research Institute. The two award winning papers are:

---

Winning paper-Mechanistic Design of Silent Asphalt Mixtures by Marinus Huurman, Lian Tong Mo, and Milliyon Fekade Woldekidan - published in IJPRT Vol. 3, No.2 issue.

Marinus Huurman, Lian Tong Mo, and Milliyon Fekade Woldekidan(Vol. 3, No. 2, pp. 56-64)

Runner-up paper-Development of a New Design Methodology for Structural Airfield Mats by Carlos Gonzalez and Timothy W. Rushing - published in IJPRT Vol. 3, No. 3 issue.
Carlos R.Gonzalez and Timothy W. Rushing(Vol. 3, No. 3, pp. 102-109)

| | | |
| --- | --- | --- |
| | | Copyright © Chinese Society of Pavement Engineering. 2008, All Rights Reserved. |